6 Historic Forts to explore in halifax
Founded as a defence complex system by the British in 1749, Halifax is home to numerous forts, each working to protect against invasion from the French and guard the entrance to Harbour. Some harder to reach than others, here are our top 6 picks.
1) Citadel Hill, Downtown Halifax
This star shaped fortress located in the heart of Halifax is one of Halifax's top attractions and a must see while in the area. Formally known as Fort George, this historic fortress is open to the public all year round. During the months of May to October guided tours are offered and admission is charged. Please visit the website for more details.  
Tip: Plan your visit to take in the 12:00 noon cannon blast.
2) Prince of Wales Tower, Point Pleasant Park
Situated at the highest point within Point Pleasant Park, the Prince of Wales Tower was part of the defence system enacted by the British. From this point you can see forward to the Harbour entrance and backward to the Citadel. The solid stone construction and cylindrical shape is said to be capable of sustaining a cannon blast.
Tip: Often, during public holidays in the months of July and August, you can catch this Tower open to the public.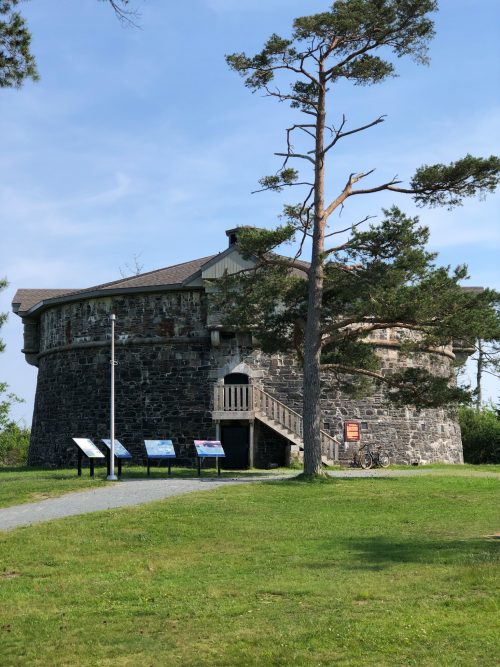 3) York Redoubt, Ferguson's Cove
Located 14 km from Downtown Halifax, this is a great cycling destination for an afternoon or morning trip. York Redoubt's fortifications are open to the public and free of admission. There are numerous walking trails and the position provides some spectacular views of the harbour.
Tip: Whether you drive or cycle, take Ferguson's Cove Road to get off the main road while you can. This dirt road is a bit rustic but full of character.
4) Fort Charlotte, George's Island
For years George's Island, home to Fort Charlotte, has been restricted to the public, only accessible to few. This summer, for the first time, the general public will have access to the island.
5) Fort Ives & Fort McNab, McNab's Island
Historically McNab's Island's (the much larger Island located within Halifax Harbour) prime location in the harbour provided the ideal location for the two most outer batteries to complete the Halifax Defense Complex, Fort McNab & Fort Ives. Today guests can plan a trip to visit the island by private charter to undertake a day of exploring.
Tip: With no facilities and minimal maintenance make sure you pack supplies for the day. Mountain Bikes are ideal for this island and quite honestly the best way to get around.