1
Book Online, Give Us a Call or Drop by Our Store.

2
Bring a Piece of Government Issued ID & a Credit Card.

If you don't have a credit card, please give us a call or drop by. We will explain any options.
3
Drop by our Store to Pick up  your Bike!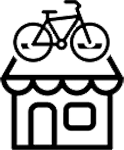 We'll answer any questions and get you fitted to your ride.